CIBSE Building Performance Award - Top 6 'Product or Innovation of the Year - Air Quality'
AURABEAT is the only non-UK-based company among those six shortlisted brands or technologies in the category, proving that AURABEAT AG+ technology is again well-recognized. It is our first time to have a specific product recognized by an international professional institution, being a pivotal milestone for our product and brand development. The judges said this year's entries 'reflected the specialist nature of this field' and praised the high standard of technical content that demonstrated 'excellent levels of research and development'.
Energy Globe National Award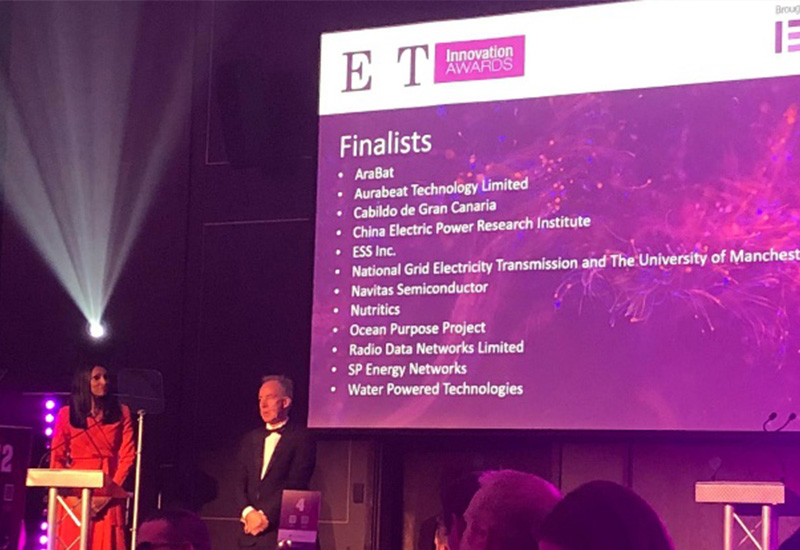 Product/Innovation of the Year
國際工程與技術學會創新大獎 - 最佳零碳與可持續創新獎 最後16強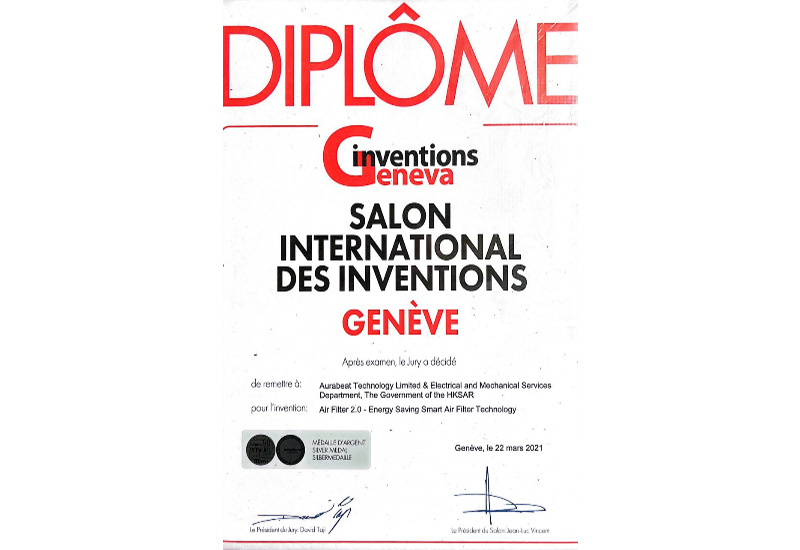 International Exhibition of Inventions of Geneva - Silver Medal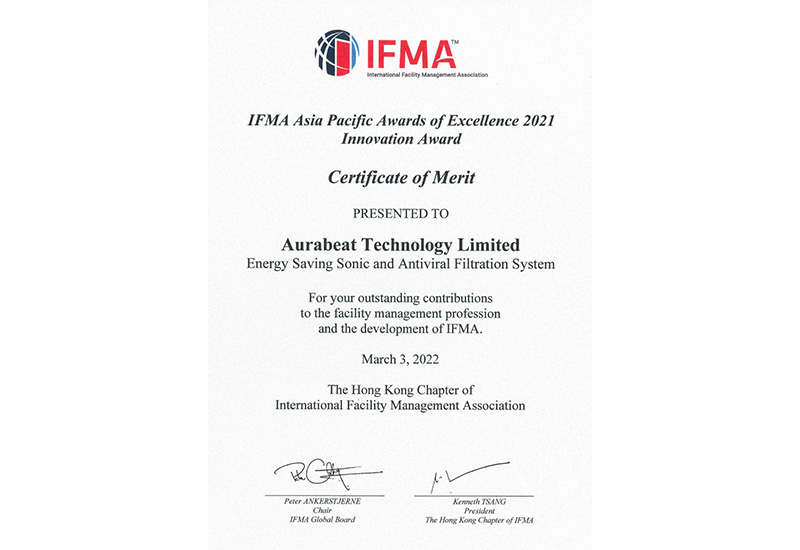 IFMA Asia Pacific Innovation Award - Certificate of Merit
Price Consumer Choice Award – Brand of Medical Grade Air Purifier
The 4th Annual Price Consumer Choice Award 2022, themed "The Power of Innovation," believes that innovation is the key to success. Continuous innovation is essential for elevating the quality of products and services, ensuring the competitiveness of merchants, brands, and even entire industries. Aurabeat Technology Ltd. was awarded the Price Consumer Choice Award – Brand of Medical Grade Air Purifier for its commitment to innovation and excellence in air purification technology.
B4BChallenge - Best Carbon Solvers
The B4B Challenge is a local annual competition that showcases innovative solutions for big data, energy efficiency, and carbon reduction. Aurabeat was awarded the title of "Best Carbon Solver" for our outstanding efforts in developing and implementing air purification products that not only improve indoor air quality but also contribute to carbon reduction. As a Best Carbon Solver, Aurabeat demonstrates industry leadership and dedication to creating solutions that address the challenges of climate change.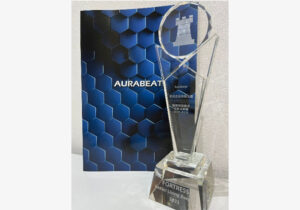 Fortress Better Living Award
The Better Living Awards, organized by Fortress, aim to recognize the significant contributions of major brands in providing a better quality of life for their customers. Following a professional evaluation, Aurabeat's NSP-PCO received the "Best Product Feature Award." The NSP-PCO utilizes cutting-edge technology to eliminate SARS-CoV-2 in just 36 seconds, as proven by the US virology laboratory MRIGlobal.
The Innovation Award of World Chinese Entrepreneurs
The Innovation Award of World Chinese Entrepreneurs, organized by World Chinese Enterprising Youth Association, aim to recognize the innovation products designed and innovated by young Chinese Entrepreneurs. Following a professional evaluation, Aurabeat's AG+ silver ion air purifier received the captioned award. The judges highly appreciated the unique patented silver ions to break down the viral envelope and subsequently destroys the virus's DNA/RNA (nucleic acid structure) while inhibiting viral replication and suppressing viral activity and infectivity.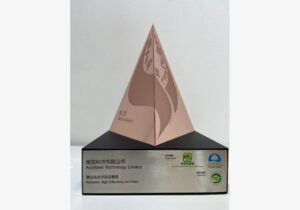 Hong Kong Green Innovations Awards - Bronze Award
In 2019, Aurabeat was honored with the Hong Kong Green Innovations Awards – Bronze Award hosted by Environmental Protection Department of HKSAR Government for its patented energy-saving sonic filter technology. This award showcases the company's commitment to developing environmentally friendly and innovative solutions in the field of air purification.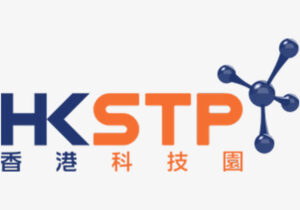 Hong Kong Science and Technology Parks – Incubation Programme
Aurabeat was selected to participate in the prestigious Incubation Programme organized by the Hong Kong Science and Technology Parks Corporation. This program is a highly selective incubation for technology startups with a comprehensive range of resources, mentorship, and networking opportunities to help them accelerate their growth, enhance their competitiveness, and drive innovation.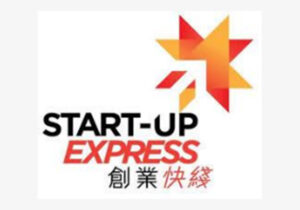 Start-up Express Top 20
Aurabeat secured a spot in the Top 20 of the Start-up Express, an elite program that identifies and supports high-potential startups in Hong Kong. This achievement highlights Aurabeat's dedication to innovation, impressive business potential, and strong market positioning in the air purification industry.
Jumpstarter Global Pitch Competition Top 36
This recognition showcases the company's outstanding business model, scalability, and unique technology in the air purification sector, as well as its potential to make a significant impact on a global scale.
Innovation and Technology Fund
Aurabeat received different sorts of Innovation and Technology Fund, an initiative designed to support research and development projects that drive advancements in technology and innovation. In April 2022, the Commissioner for Innovation and Technology visited Aurabeat to learn about the business and technology growth with the funding support.